Whether you're looking for another avenue to get gems, or you want exclusive loot, dungeons are just right for you! These unique dungeons are scripted with custom quests, and coded with dungeon specific mythic mobs, giving an intense challenge to even the most seasoned of PvE players. Tag along with up to two friends as you take on the waves of minions and the final boss in these dungeons scattered about the world:
The Corruption of Kairos
Finn is just a simple traveler who wants to make a holy pilgrimage to
Kairos
, the World Tree. But he fears something is wrong with it. Find him in
Telaria
, and help assist as you explore the depths of Kairos' roots, and sort out whatever evil is plaguing this magical tree of the Purelakers.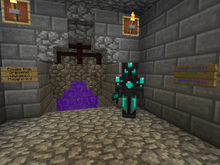 Escape from Drakonfell
Romul is a loyal member of the Drakonguard, assigned watching the most unruly of inmates. However, today those inmates seem just a bit out of control. Do you think you have what it takes to settle the most dangerous criminals that reside in the Lower Cells of Drakonfell Prison?